How to use video in your Shopify email marketing campaigns
As a Shopify merchant you are no doubt already aware of email marketing campaigns and how they are a fantastic way to increase sales conversions and recover abandoned carts. In this post we will be taking a look at how using email marketing for your Shopify store can also help improve the relationship that you have with your customer base.
So why should Shopify merchants use email marketing campaigns?
Shopify actually comes with a built-in email provider - of course it does, they think of everything! And it is free to use for 2,500 emails per month. If you hit that limit, then it only costs $1 per every 1000 additional emails sent each month which is a great option if you are just getting started with email marketing or have a smaller customer base or email list.
This already highlights one of the key reasons that you should definitely be using email campaigns, as compared to other types of outbound advertising, the cost is much lower and plus this is a channel that you completely own! You don't have to pay to reach an audience on Facebook for example, you own your email list & people usually will stay as a subscriber which opens up many possibilities over the long term.
Abandoned Cart Recovery
One way that email campaigns can be very effective is by improving abandoned cart recovery rates. If someone has added a product to their basket and are looking to to buy, but then get distracted (something as simple as a notification on their phone could distract them enough to not complete that purchase) you can set an automatic trigger to send them an email after a set amount of time to remind them "…hey look you've got this item in your your basket would you like to finish purchasing this item…"
This can be a great way to gently remind people & has proven to deliver an uptick in completed purchases.
Pre-Launch Email List
If you are at the pre-launch stage it is always a good idea to have an email subscribe box on your store, so that you can start to grow a list of people who are interested in your products and what you're doing. You can then begin to build up hype for your products and let future customers know when your store is open for business.
Update your customers about offers
Once you have your list of email subscribers and customers who have already purchased from your store, you can use campiagns to contact them with news about your store.
It's important to make sure that what you are sending is of benefit to them - don't email too regularly because that can be spammy and will for sure cause people to unsubscribe!
You can however, let them know when you've got a new product launching soon or if you've got special offers - subtle ways to engage so that they are reminded of your store, but not too much. 😉
Customer Segmentation
One really cool thing that you can do with email campaigns (depending on the email provider) is to use segmentation. This looks at how people interact with & how often they open your emails. You can adjust the provider to send people emails more frequently if they open your emails more often and vice versa. Klaviyo is a great example of a tool that is really powerful at building segments of your users, which helps to find people who are more engaged than others and allow you to create deals that they might be interested in.
Here is a quick list of some of the most popular email marketing providers:
Shopify - Comes with Shopify.
Klaviyo - One of the more expensive options. Has segmentation tools which are really powerful, you can create workflows that users can automatically be put into depending on how they interact with your emails.
Omnisend - is a specific email marketing tool for e-commerce
Others
All of these are providers that will help you set up email campaigns for Shopify. I'd recommend starting with the built-in Shopify tool & then when you're looking to build more layers on top of this, begin to test and explore these other options and see what pricing plans work best for your store.
Using Video in your Email Marketing Campaigns
Video is a really great and effective way to engage your subscribers. Now whilst you can't embed a video directly into your email you can add an animated GIF preview of your video, this helps to improve the CTR (click-through rates) of your emails, allowing you to capture their attention more than just adding an static image thumbnail.
With our service Snappd, once you create a video we automatically create a GIF from this, which can then link to the full video on click.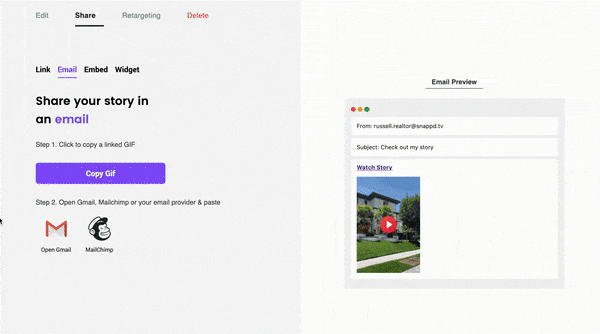 At Snappd we have worked on creating more interactivity into the video that can connect up with your Shopify store. For example utilising the Shopify buy button, allowing viewers to click through to your checkout straight from a video.
The types of content you create in these videos is important as well, successful videos that some of our Shopify customers have used for their email campaigns include:
Unboxing of your latest products
A 'How To' or Tutorial showcasing your product in action
Influencer collaborations
Customer Reviews
There are all sorts of other ways you can use video to connect with your customers, for example you could show your team talking about your latest products, showing behind the scenes of how products are made. Ultimately this will give your customers a much more holistic view of what your brand is all about!
Engaging more with your customers & building that connection right from your email campaigns can really show that you are trustworthy, which until now has been a real challenge online.
Feel free to sign up to Snappd to get started with video and see your email click through rates go through the roof 🚀