In a world of apps, Instagram looks to be leading 🏁
… my guess is that Facebook will not need to keep closing in on Snapchat & the story format as Snapchat will naturally move away itself to focus more on chat / hardware and a new type of discover think "mobile tv". Leaving Instagram with a stronghold over ephemeral stories along with Snappd being the place to watch the best stories after 24 hours.
The quote above is from a post back in March by our co-founder. In the months since the features released by both Instagram, Snapchat and Facebook do resemble these predictions that were made.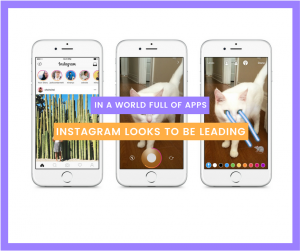 Snapchat:
Snapchat have been busy releasing a bunch of innovative new features.
Swipe up cards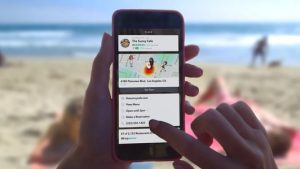 They recently launched Context Cards which allow users to swipe up on certain Snaps to find out more information and connect to other services such as OpenTable or Lyft. Additions like this will help transform Snapchat into a powerful marketing platform that has the potential to rival companies such as Yelp.
Features like this are also great to explore with people you know to make plans and have 1-on-1 messaging.
AR art platform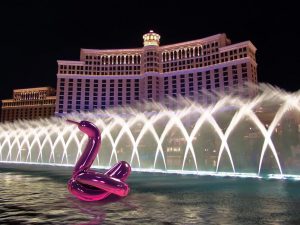 Another notable release from Snapchat has been the launch of a new augmented reality art platform which allows art to be pinned to specific locations. Again this is another step from Snapchat to prove they are so much more than just a 'camera company.' Read more
Scripted shows 
Our co-founder predicted that Snapchat will lead the way for 'mobile tv' by creating original content on its platform. This may well be the case and something to look out for in the near future after it was reported that the app is to have its own scripted shows by the end of this year according to Nick Bell, Snapchat's head of content. Read more
Yesterday it was announced that Snapchat and NBCUniversal are teaming up to create its first scripted series, shot and shown in vertical video format which is a huge step in Snapchat owning the vertical video space. This jump into scripted content as opposed to the normal user generated 'stories' shows that they could become the mobile and vertical version of Netflix.
Instagram:
Instagram polls, & more lenses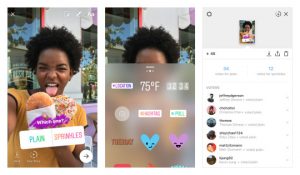 Whilst Snapchat has been experimenting with different aspects of their platform, Instagram appears to have been focusing on releasing new features to stories such as polls and improved lenses, the latter however is still quite not as impressive as Snapchat!
It's not surprising that Instagram has started to focus on stories since their daily active users has jumped to 250 million, up from 200 million in April. This is compared to Snapchat's 166 million daily actives.
The enormous popularity and recent feature additions to Instagram stories show that Instagram does seem to be heading towards becoming the best place to create a story.
Facebook:
Facebook has it's own version of stories (along with Facebook Messenger Day) but has struggled to get usage anywhere near Instagram. So much so in fact that Facebook is testing to ability to allow users to cross-post directly to their Facebook story when creating a photo or video on Instagram.
This again proves how much of a powerhouse Instagram stories has become.
What's better, Instagram or Snapchat stories?
Right now, there is almost as much benefit to creating stories on Snapchat as there is Instagram in terms of functionality but with questions still around discoverability I would recommend using Instagram if you are just starting to make stories now.
It is also important to carefully consider where the bulk of your following is to begin with. If you have more of a following on Instagram compared to mostly family and friends on Snapchat then it makes more sense to broadcast on Instagram – along with this greater discoverability you should be able to grow your audience easier.
Wherever you make stories it really helps to upload and save your stories to Snappd to really make the most of every minute spent making them. – Give more life to your stories here