Which types of high converting videos should you have on your Shopify store?
Are you using video on your Shopify store? 📹
Potential customers now expect to see a video of your product or brand, in fact around 96% of people will look for videos to learn more about a particular product or service.
Video is key for customers when making a purchasing decision. So, if they don't find a product video on your store, you risk them bouncing and looking elsewhere for an alternative.
The good news is as video has been growing more and more each year, is it now no longer a daunting task to record a quick video of your product or brand.
At Snappd we have created the easiest way to add engaging and interactive video to any website and in particular any Shopify store. Our goal is to help you turn your web traffic into paying customers by building trust and excitement for your products through video.
So now that you know the importance of adding video to your store, let us show you what types of video you should be creating to wow your visitors.
When talking about video we don't mean long form horizontal video like you would see on Youtube. This is way to time consuming, requires too much equipment or software, is not fully optimised for mobile and frankly, it's really not necessary!
We are talking about short 15-30 second vertical clips recorded on your phone - as if recording an Instagram story. This short form of mobile- first video has been proven to be the most effective in the last couple of years thanks to social media so we have brought this same engaging video to the web.
What types of video are perfect for Shopify?
Well let's get straight to it, here are some suggestions of the types of engaging videos that you should be creating for your Shopify store.
How To's and Tutorials
A great way to provide customers with more information about your product and what they can expect is to create a How-To or Tutorial showcasing your product in action.
Again these can be as simple as a couple of 20 second video clips of you or your team demonstrating what you product is and how it can be used and all of the great benefits.
For example if you have a skincare product, a quick step by step guide on how and when to apply this product and mentioning the results you can expect will instantly engage your customers!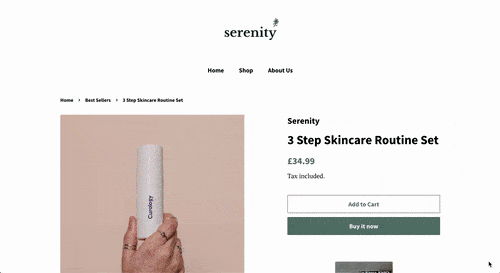 UGC & Customer Reviews or Testimonials
We would 100% recommend that you include video clips of your very own customers talking about your products. This is a fantastic way to build social proof and it so much more effective than just a written review which again makes your brand seem 10x more trustworthy.
You can request that your customers send a short 10-20 second clip that you can add to the product page. Some of our Snappd customers even offer a discount or voucher to incentivise their customers to send video reviews as they have realised the power of this type of social proof (it also increases the chances that they come back as a repeat customer 😉 )
Influencer Collaborations
Many Shopify merchants are already using influencer marketing to build awareness for their products but this content is almost always only exclusive to social media. 💁‍♂️
Influencer campaigns nowadays normally include the influencer creating a story on their Instagram talking about a product. This is great and highly effective as they are experts at using this type of video they know how to engage with an audience, but unfortunately this only lasts 24 hours.
So, an awesome way to repurpose these story clips is to add them onto your Shopify store, which of course boosts social proof but it also makes your website connect more seamlessly with the content on your social media.
Best-Sellers or Product launches
Let's say you have a brand new product launch and you want to draw your web visitors attention to a particular product. One way to do this in a unique way is to have a video on your home page either embedded in a particular section highlighting this new launch or as a 'floating story' that scrolls down the bottom of the page with the visitor.
Having some clips introducing the new product, key features and why you are excited about this launch is a creative way to guide your visitors to find out more about this product. With Snappd you also have the option to add an interactive button to your video, for example this button could link the viewer to a particular product page.
Introduce Your Brand!
So this suggestion is a little different but super effective as well. We believe that every brand has a story and that video is the best way to communicate this online.
An awesome way to build trust and connect with your customers in a more authentic way is to record a short video introducing the founders or team members. This type of video works very well on the 'About Us' page or even on your store's Home Page. Welcoming your customers warmly and showing the personality behind your brand is sure to make you stand out!
Building a more personal connection through video is the closest thing you can have to recreating an in-store experience online. At Snappd we want to help you build this connection in the easiest way possible, so if you are ready to start adding engaging video to your Shopify store to boost conversions, then you can sign up here. We look forward to seeing your brand's story very soon! 😘