How to Add Video to a Shopify Product Page
Video is one of the key ways that you can build trust with potential customers who have found your Shopify store and reached the all important product page.
Unfortunately these days you run the risk of customers bouncing from a product page if there is limited information or even if there is no video.
Customers expect to see a video of a product before making a purchasing decision and so it is important to make sure you keep their interest while they are on this page so that they will ultimately convert.
Different Options for Adding Video to a Product Page
There are a number of ways you can add video onto your product page, the most obvious is to upload a video through the Shopify admin panel, which is quite simple but often visitors may not even watch the video as this may be not very obvious mixed in with other product pictures.
Another option is to spend some more time to create a video that you can upload to YouTube and then embed onto the page. With longer form horizontal video like this it generally needs to be quite polished, will need edited and can take a lot of time to perfect. It may involve recording multiple angles of footage which can be nicely cut together.
We may be a little biased but the best option that we have seen Shopify merchants do and would recommend, is to use Snappd to create your videos & easily add this into your product description, drawing the customer's attention to the video right away.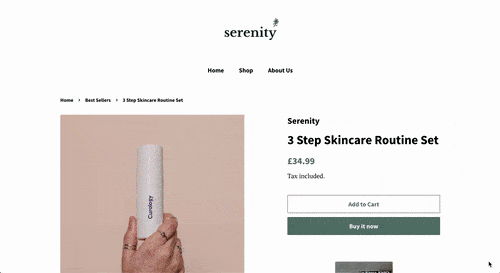 How Does Snappd Video Work?
At Snappd we have created the easiest way to add engaging and interactive video to any Shopify store. We want to help Shopify merchants like you turn your web traffic into paying customers by building trust and excitement for your products through video.
Snappd videos are unique. They are similar to the short form mobile-first videos that you see on social media. Just like an Instagram story, we recommend recording short 10-30 clips on your phone of you, a team member or even an influencer, introducing the product and showing it in action. These types of video have been proven to be the most effective at engaging viewers and have much higher conversion rates - in fact up to 9x more conversions than well manicured horizontal videos.
You don't need to spend any time editing these clips together & because they are so short, it is much easier to record.
Once you have uploaded your video clips to Snappd we automatically stitch these together just like a 'Story' and you can then embed your engaging product video into the product description.
How to Add Snappd Video to a Product's Description
Simply, copy the embed code from Snappd and paste this into the product description section within Shopify. The video will then be displayed with an animated GIF to grab the visitor's attention and then they can tap forward and back on the video to watch the parts that interest them the most.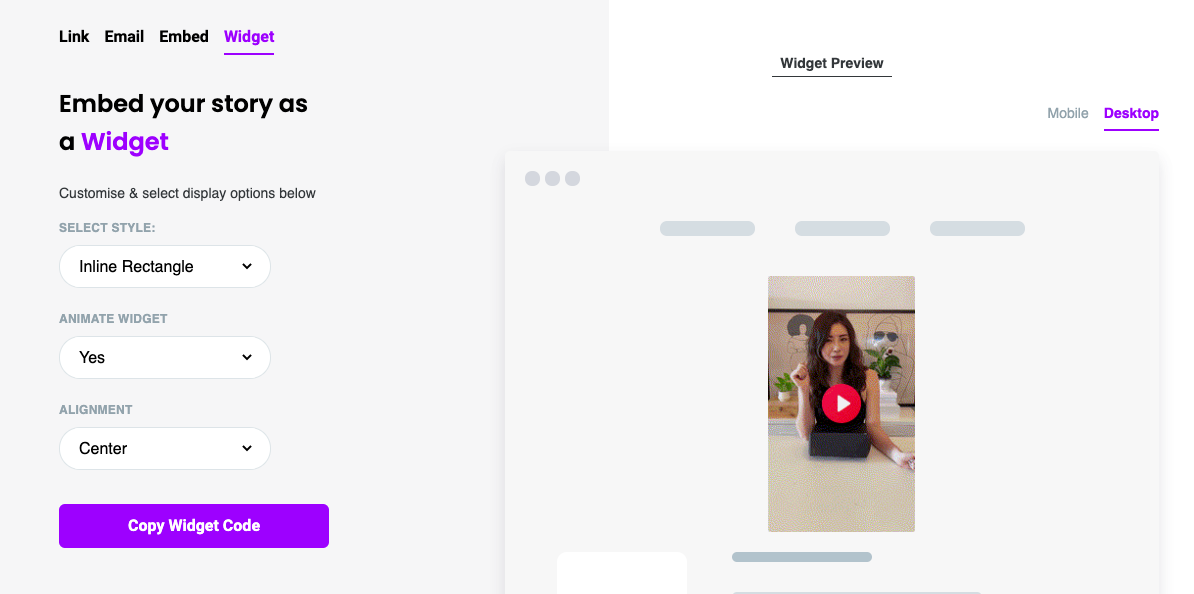 Types of Video to Add to a Product Page
Here are some quick suggestions on product videos that we would recommend to get started with adding video to your Shopify product pages:
How To's / Tutorials - these are a great way to showcase your product in action and give a quick step by step guide on how to use the product effectively so that customer's have the best results.
Customer Review Video - UGC and customer reviews are one the best ways to build trust and social proof for your brand
Unboxing - These videos are super popular and really easy to create, check out some unboxing examples here.
Influencer Collabs - so many brands spend a heck of a lot of money on influencer campaigns that are almost always limited to social media content but we say no more! Have influencers create a short clips of your product just as they would do on Instagram, upload them to Snappd and include these to your product page.
You can find more info and examples of the types of engaging videos that work really well on Shopify stores here.
If you are ready to wow your Shopify visitors with engaging and interactive video that converts you can find more helpful information on our blog and you can get started with Snappd right away using this link.