Best Beauty Brands on Instagram Stories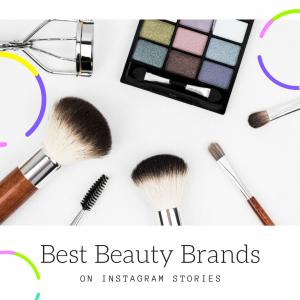 Instagram stories have been going from strength to strength since launching just over a year ago, proving that blatantly copying Snapchat was the right risk to take. Unsurprisingly, this move has led to beauty and makeup brands flocking to Instagram stories. These brands have become avid users of stories, mastering the feature with innovative & creative videos with most accounts posting daily, keeping their millions of followers engaged.
Instagram stories now has over 300 million daily active users making it the perfect place for these brands to directly reach and interact with their targeted audience. From mini tutorials, product reviews and exclusive behind the scenes footage of photoshoots – these beauty accounts are sharing it all!
Here are some of the best beauty brands smashing it on Instagram Stories.
1) Tarte Cosmetics @tartecosmetics Tarte create stories in a clever way often using beauty bloggers & influencers with 'get ready with me' tutorials featuring Tarte palettes & products. They also use stories to let customers know when certain stock is available.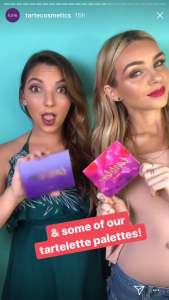 Tarte Cosmetics Instagram Story
2) Smashbox Cosmetics & Smashbox Cosmetics UK @smashboxcosmeticsuk With makeup artist tutorials, pretty swatches & discount links, Smashbox have their Instagram story strategy down to a tee.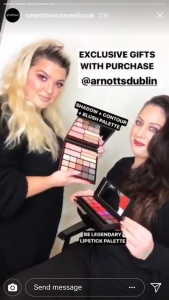 Smashbox Instagram Story
3) Rimmel London @rimmellondonuk – Rimmel's creative stories include step by step guides to using palettes & other products. They like to take advantage of Instagram's new poll feature, allowing viewers to participate in polls & see the latest deals.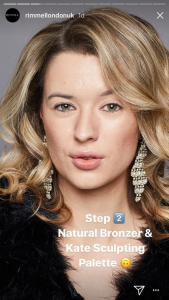 Rimmel London Instagram Story
4) Anastasia Beverly Hills @anastasiabeverlyhills – With over 15 million Instagram followers, this cosmetics giant knows exactly how to get their audience excited about new products via stories with tips & tricks showing how to get the most out of their range.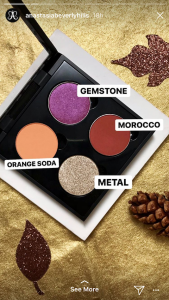 Anastasia Beverly Hills Story
5) Benefit Cosmetics @benefitcosmetics Benefit are a great example of how brands can use stories to engage with their audience by showcasing followers on their story who have tried their products.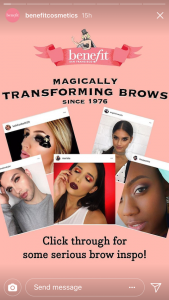 Benefit Cosmetics Story
Whether you are a makeup lover or not why not give some of these accounts a follow? You will not be disappointed with the fresh and creative content & it is a good way to see examples of how your business could use these strategies and tactics.
Are you creating awesome stories on Instagram? Let them go further with the Snappd app or have your stories automatically displayed on your website every day with storieswidget.com